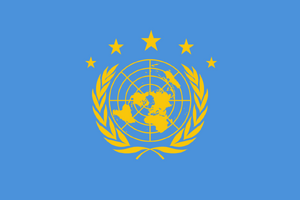 Earth's government is formally titled United Nations of Terra World Government (UNTWG). Unlike the pre-Gene Wars United Nations, the UNTWG is the planetary government of earth, not a gathering of sovereign nations. Its capital is Auckland, New Zealand.
Some pre-Gene Wars nations are still in existence, little changed; others have changed greatly or disappeared entirely into successor states. Although they call themselves nations, they are effectively subordinated to the authority of the planetary government. At the present, the major divisions on Earth are as follows:
The remainder of Africa is a Federation Administrative Zone
The bulk of the Middle East, from Turkey across to Tajikistan, is a quarantined wasteland.