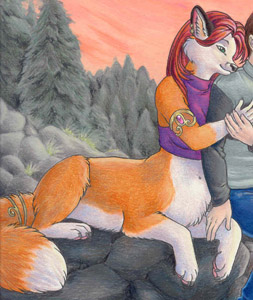 The Tales of the Foxtaur Clans series is a series of stories written by Bernard Doove, which follows the exploits of various foxtaurs.
Unlike Doove's Forest Tales, Tales of the Foxtaur Clans doesn't focus on any particular character, or set of characters. While originally it mostly focused on Garrek's home clan of Mountain Glade, the later part of the series focuses on other clans and characters.
The Foxtaur Clans can be organized into three mini-series under the title: Ketta and Stargrey (TFC 2, 4), Life's Dream (TFC 6-14), and Savanna's Journey (TFC 15-17).
Like the series The Admiral and the Chakat, The Foxtaur clans series crosses over into the main Forest Tales series, in particular, TFC 5, Obligation, directly leads into Forest Tales 28.
Story Links
Edit
Life's Dream
Edit
Savanna's Journey
Edit
Ad blocker interference detected!
Wikia is a free-to-use site that makes money from advertising. We have a modified experience for viewers using ad blockers

Wikia is not accessible if you've made further modifications. Remove the custom ad blocker rule(s) and the page will load as expected.